September 12-16, 2022
Wyo-Ben Corporate Offices – Billings, MT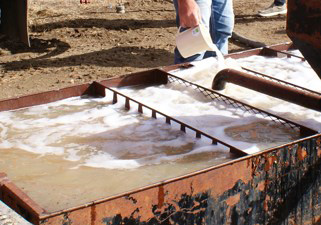 The MUD SCHOOL objective is to address the basics of Drilling Fluid technology.Participants will understand how drilling mud can contribute to a smooth drilling operation, whether drilling vertically or horizontally. Clay chemistry, fluid dynamics, polymer usage, as well as grouting and hole abandonment will be discussed. 
Location: Wyo-Ben – Billings, MT 
Dates: September 12-16, 2022
Size: Class limited to 10
Registration: $1,785
Draft Agenda
MONDAY
WYO-BEN Corporate Office – Billings, MT
Introductions and Welcome
Bentonite 101
Drilling Fluids: Their Purpose & Make-up
Common Drilling Conditions & Problems
Drilling Demonstrations
Dinner
TUESDAY
WYO-BEN Corporate Office – Billings, MT
Polymer Additions and Alternatives
Solids Control
Laboratory testing
Dinner
WEDNESDAY
WYO-BEN Greybull & Lovell Plants, WY
Travel to Lovell & Greybull, Wyoming
Tour Mines and Plant
Sightsee at Big Horn Canyon
Check in at Motel and Dinner
THURSDAY
WYO-BEN Greybull Plant, WY
Grouting and Hole Abandonment
Outdoor Practicum: Hole Sealing &
Grouting
Travel to Cody, Wyoming
Check in at Motel and Dinner
FRIDAY
Cody, Wyoming & WYO-BEN Billings, MT
Final Session: Theoretical Drilling
Operation and Mud Programming
Tour Buffalo Bill Museum
Travel to Billings, Montana
Final Banquet
Register below.
Our Mud School class is filled for September! If you missed out, check back for more to come in the future.